A huge and enthusiastic group joined G3's Pamela Berstler at Torrance West High School's Sheet Mulching Hands-on Workshop, sponsored by City of Torrance, West Basin MWD, and Surfrider Foundation's Ocean Friendly Gardens Program. This landscape transformation is the brainchild of two teachers at Torrance West High- Betty Burkhard (AP Environmental Studies) and Ann Cortina (AP Biology) – who started this process a year ago by attending a Watershed Basics Class in the City of Torrance.  
The West High AP students are integrating the real-life experiences of building an Ocean Friendly and Schoolyard Habitat (under US Fish and Wildlife's Schoolyard Habitat Program grant) in the approximately 12,000 sq. ft. area between two buildings (totaling approx. 17,000 sq. ft. of roof space for runoff) into their classwork.  Chuck Schaich, Conservation Coordinator of the City of Torrance is spearheading the city's support of the project.  For this HOW, the City of Torrance provided tools, wheelbarrows, free city mulch (from fresh tree trimmings), and the invaluable expertise of Omar, a Torrance Public Works employee (shown in group picture in middle wearing orange).
This area was previously turf/weed covered, so sheet mulching is the most cost and effort-effective way to convert the weedy greenery into luscious loamy soil. We call the process "Soil Lasagna".  Look at the steps below, and you'll see why.  Check out our Resources Posts for more information about how to Sheet Mulch and where to find the materials used to make "Soil Lasagna."
G3 Mama's Best Recipe For Soil Lasagna: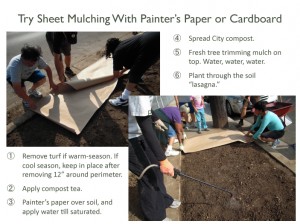 Call Dig Alert or other service that will mark where electrical, plumbing, and cable lines come on to the property.
Start with grass or low-growing weed-covered damp soil. If lawn is cool-season turf, mow to lowest height, leaving clippings in place and proceed to #3.  If lawn is warm-season turf, like Bermuda grass, remove as much of the organic matter as possible.  If hand removal is not practical, then at the very least, use a sod cutter to remove the upper growth.  Hand removal of warm-season turf is preferred, with digging out as many rhizomes as possible.
Flag all sprinkler heads. Remove soil around them and, if they are on swing joints, make sure the heads are 2″ or more above existing grade.
Remove the soil from all hardscape surfaces and between planters or other lawn areas that are not to be affected. Cut away at least 12″ – 24″ wide x 6″ – 10″ deep. Be careful of irrigation lines that might be placed against the hardscape surfaces. Dig carefully!
Sculpt the site for capturing rainwater (See Building Sponge Gardens). Pour Aerobic Compost Tea or a 2″ or more layer of good compost or worm castings into the catchment areas.
Broadcast Premium Humate from Tri-C Enterprises on top of the damp soil.  Follow instructions on the bag for coverage (approximately 50 lbs./1,000 sq. ft.). Alternatively, you can apply Aerobic Compost Tea or a 1″  layer of good compost or worm castings.
Cover the soil with Painters' Paper or Cardboard, being careful to overlap any edges by at least 6″ – 8″ and to cover every part of soil with paper/cardboard — no gaps, even at the trenched edges!
Water the paper/cardboard thoroughly so it is completely wet. Be careful not to step on the paper/cardboard and rip it!
Cover immediately with 4″ – 6″ of living mulch (fresh tree trimmings comprised of both wood and leaves, predominately no larger than 1″ – 2″ in diameter).
Water mulch thoroughly so it penetrates to the bottom layers. Use your hands to push away mulch to be sure it is completely wet.
Cook for 4 – 6 months, if possible, watering occasionally when the mulch dries out.  
Every 30 – 45 days, check progress of decomposition. If the lawn is not decomposing, add worm castings, good compost, or Aerobic Compost Tea, water thoroughly, and cover with another 1″ – 2″ of living mulch.