Date/Time
Date:
01/18/2018
Time:
9:00 AM - 12:00 PM
Location
Rowley Park Senior Center
13220 S. Van Ness Ave.
Gardena, CA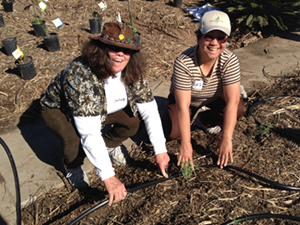 Join us to learn how to select, plant and care for beautiful CA native plants that thrive in the climate of Gardena, CA.
This Hands on Workshop (HOW) on Plant Selection & Planting will take place at the Rowley Park in Gardena, CA on January 18th from 9:00AM til 12:00 PM.  The event is hosted by West Basin Municipal Water District.
Please wear closed-toe shoes and bring a shovel if you have one. Also, wear sunscreen and bring a hat and water bottle if you plan on getting hands-on in the garden. You will not be able to work in the landscape with open-toe shoes.  There will be no exceptions.
The event is free, but registration is required. REGISTER HERE
Start time: 9:00 AM, so try to arrive 15 minutes early in order to settle into your seat.
Having difficulty navigating this event? Email questions to:  Classes@WatershedWiseTraining.com  Be sure to include the date and location of the class in your email so we can answer your questions.