| | | | | | | |
| --- | --- | --- | --- | --- | --- | --- |
| Price Change Dates | Full Summit | Inoculation Party Only | Small Group Day 1 | Lunch Only Day 1 | Fermentation Party Only Day 1 | Plenary Day 2 |
| thru 4/1/17 | | | | | | |
| 4/2/17 - 6/10/17 | | | | | | |
| 6/11/17 – 7/15/17 | | | | | | |
| 7/16/17 – 8/1/17 | | | not available | | | |
| 8/2/17 – 8/7/17 | | | not available | | | |
| 8/7/17 | not available | | not available | not available | | |
| 8/8/17 – 8/9/17 | not available | not available | not available | not available | | |
Thank you to our amazing sponsors for their financial support and participation in this dialogue.  They make it possible for us to Turn away from TERROR and Return to TERROIR!  This year we have three kinds of sponsorships: Event Sponsors, Strategic/In-Kind Partners, and Promotional Sponsors. If you are interested in becoming an Urban Soil Summit 2.0 Sponsor at any level, click the box here to learn more.
| | |
| --- | --- |
| 6:00pm – 8:30pm | Inoculation Party |
| | Yummy libations and hors d'oeuvres with a soil theme. |
| | Meet the speakers and other conference attendees in a relaxed setting before the start of the Summit. |
| | Venue TBD |
Day One: The Deep Dive Into TERROIR! Without Terror
Today we spend time diving into two of the FOUR DISCUSSION TRACKS highlighted below. Each Track is curated around a topic related to Soil and features 4-8 speakers, 4 facilitators and you, the audience. When they become available in June 2017, you are encouraged to download the pre-conference background materials for your two selected tracks; these materials are included in the cost of your ticket, but are only available online. Hardcopies will not be available for purchase.
You also are encouraged to purchase books by several of our speakers. In June 2017 these books will be available for pre-purchase on this website and pick up at the Summit.
Each Attendee must pre-select two Discussion Tracks – one in the morning and one in the afternoon. Watch for an email in June 2017 when you will be asked to make your selections.
Track One – OUR SOIL & CIVILIZATION: Sacred Soil and the Rise and Fall of Civilizations
We delve into the nexus of social and environmental justice, discuss what the soil record tells us about the resilience of various civilizations throughout time, and explore why soil is sacred and how those who protect and steward it can evolve into sacred beings.
Track Two – OUR DEEP CONNECTION TO SOIL: The Sense of Place of Everyday Things
We explore the food, objects, water and medicine that derive their unique properties from the microbes in soil and reveal the relationship of those microbes with those inside our bodies.
Track Three – OUR COMMUNICATION ABOUT SOIL: Signs, Symbols and Behaviors Used by Soil to Communicate
We dig into how microbes communicate with each other, with plants, and with humans, and what strategies can we devise to share the story of healthy living soil with a wider audience?
Track Four – OUR COLLABORATION TO HEAL SOIL: Research, Economic Models, Practices to Turn Terror Into Terroir
We learn about research and practices that are being utilized across the globe to better understand how to grow living soil, the skills people need to steward it, and strategies for tapping into the bright money (as opposed to dark money) that is necessary to build a new regenerative economy.
7:00am – 8:30am
Registration and Breakfast at the UCLA Luskin Conference Center's Plateia Restaurant
8:30am – 8:45am
Orientation, Acknowledgements, Welcome to TERROIR!

Pamela Berstler, CEO of Green Gardens Group

9:00am – 10:30am
The Morning Sessions
10:30am – 10:45am
Morning Coffee Break
10:45am – 12:15pm
The Morning Sessions Continue
12:15pm – 1:00pm
Community Lunch Served at Plateia Restaurant
1:00pm – 1:45pm
Lunch Keynote Conversation at Plateia Restaurant
2:00pm – 3:30pm
The Afternoon Sessions
3:30pm – 3:45pm
Afternoon Tea Break
3:45pm – 5:00pm
The Afternoon Sessions Continue
5:00pm – 5:30pm
The Day One Wrap Up

Pamela Berstler, CEO of Green Gardens Group

6:00pm – 9:00 pm
Fermentation Celebration
No rest for the wicked! Now is the time for big ideas to brew over bubbly conversation with your new Summit friends. We will travel to a secret getaway where we ply you with great food and beverage.   You supply the ideas and the fizz.
Venue TBD
Day Two: Weaving Together A Soil Story of Resilience and Hope
Toady we spend time weaving together the threads of each of the deep dive conversations we explored on Day One to arrive at some conclusions about how best to create more resilient cities and bring hope to the people we encounter that terror about climate change WILL NOT prevail.
Each of today's four 90 minute sessions re-imagines our discussion from Day One by bringing together one or two speakers from each of the tracks and encouraging attendees to participate with experiences and questions. The take away is that even though we spent a day divided into different tracks, TERROIR! will always unite us once again.
7:00am – 8:30am
Registration and Breakfast at the UCLA Luskin Conference Center's Plateia Restaurant
8:30am – 8:35am
We Follow the Beat of A Different Drummer
8:35am – 8:45am
Plenary Introduction, Acknowledgements, Welcome

Pamela Berstler, CEO of Green Gardens Group

9:00am – 10:30am
Panel One: THE PLANT/ SOIL/ WATER/ PEOPLE CONNECTION

When we think about terroir, we naturally think about wine, cheese, coffee, medicine, and other every-day products that not only require soil, but also possess different qualities based on where and how they are produced.

If we knew that our human health and many of our human emotions were derived from soil microbes, how would that change our perception of its importance?

If we understood that soil and plants interact at a deep level to determine the quality of life for the plant and that plants and water are utterly dependent upon a complex interaction with the soil in a particular place, what would we change about our lives to come in more contact with healthy living soil?

10:30am – 10:45am
Morning Coffee Break
10:45am – 12:15pm
Panel Two: OUR SACRED SOIL

The Lakota People believe that soil is "who we used to be." If we understood that soil has memory of people, plants, animals, and events, how would it change the way we farm our land, build our cities, and design our landscapes?

Who are the people we engage to work with the soil and how do we honor them in our daily lives?

If history shows us civilizations that did not protect their soil ultimately perished, what actions must we take NOW to reverse soil degradation and save it from policies that will not preserve it? What is the fate of our civilization from continued soil desecration and climate change?

12:15pm – 1:00pm
Community Luncheon
1:15pm – 2:45pm
Panel Three: THE SOIL STORIES WE TELL

One of the oldest stories humankind tells is that Adam (Hebrew for "man") is from Adamah (Hebrew for "earth"). What are some of the other soil stories we need to share with the world at this time to combat terror?

How does living soil fit into the story of "organic," "healthy," "clean," or "beautiful?" Do we need to change our stories?

What has motivated storytellers to share the message of the value of healthy living soil? What tools do we need to convince others that soil is the solution and that engineers can "trust" it?

2:45pm – 3:15pm
Afternoon Tea Break
3:15pm – 4:45pm
Panel Four: A SOIL ECONOMY

What are some of the most compelling economic models for climate-smart agriculture, watershed wise landscapes, and healthy living rangelands?

How do we bring social and environmental justice into alignment and build life-long careers (not just jobs) for people who want to rebuild their communities with soil-centric businesses?

What are some of the challenges we must overcome as a community in order to move forward obvious solutions such as locally sourced compost, native plant production and others?

4:45pm – 5:00pm
The RAFFLE!!!
5:00pm – 5:30pm
The Day Two Wrap Up, Thank You and A Call to Action!

Pamela Berstler, CEO of G3, Green Gardens Group

6:00pm
Informal cocktails at the bar – all are welcome for a no-host cocktail hour to decompress, wait out notorious Los Angeles traffic, make final collaboration plans and celebrate the close of Soil Summit 2.0

Specific Venue TBD
Check back frequently, as we update confirmed speakers & look at the Summit Program for more information.
The Urban Soil Summit 2.0 again unites a diverse group of leading thinkers, scientists, engineers, policy makers, architects, planners, designers, and concerned individuals in an energetic exchange about the science and actions necessary to create Soil Security, a fundamental building block of human resilience. Over two days, our dialogue will enlighten, inspire, amaze and motivate attending urban dwellers to connect with each other and take action in their own lives to nurture the soil beneath their feet.
Soil Summit Venue – UCLA Luskin Conference Center
Every element of the UCLA Meyer and Renee Luskin Conference Center and its adjoining hotel was designed to honor the intrinsic link between innovation and rejuvenation. A LEED Gold-certified property enhanced by leading edge resources, the UCLA Luskin Conference Center's bright and relaxing environment encourages open engagement. Here, leading academic minds, medical innovators, researchers, political leaders and social visionaries meet to build relationships, exchange ideas, and make breakthroughs possible to move our world forward.  In other words, it is the PERFECT venue for the Urban Soil Summit 2017.
Plateia, a full-service Mediterranean-inspired, California-fresh restaurant and lounge, will be providing breakfast, lunch, and breakouts throughout both of the Summit days.  The restaurant is dedicated to providing Summit attendees with the most local, organic cuisine, and provides daily gluten-free, dairy-free, vegetarian, vegan, and pescatarian meal alternatives.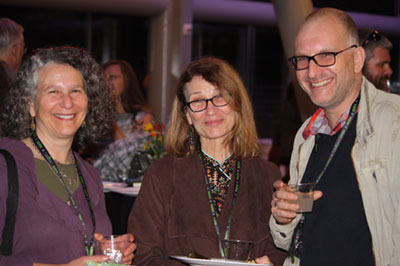 Make sure you are in town the evening before the Summit begins in order to enjoy the Inoculation Party and Sneak Peek Opening Celebration.   Mingle with the speakers, sponsors, partners and friends who helped make the dream of this Summit a reality. Your Full Conference Ticket includes access to both the Inoculation and the Fermentation parties. If you can't join us for the whole Summit, individual tickets for the Inoculation Party are available.
At the Inoculation Party, libations and hors d'oeuvres are served, of course with a soil theme!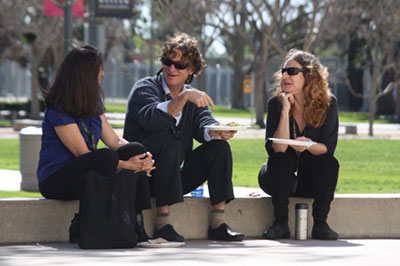 Day One is complete and the big ideas are brewing.  Time for a Fermentation Celebration! Your Full Conference Ticket includes access to both the Inoculation and the Fermentation parties. If you can't join us for the whole Summit, individual tickets for the Fermentation Celebration are available.
The Fermentation Celebration fosters bubbly conversation with your new Summit friends. We supply the food and beverage.  You supply the fizz.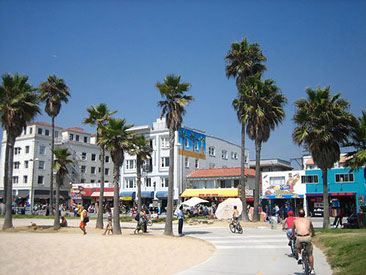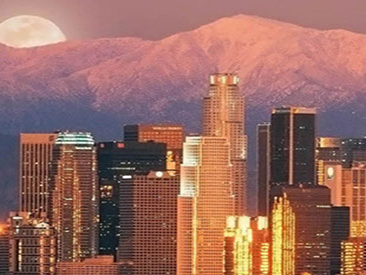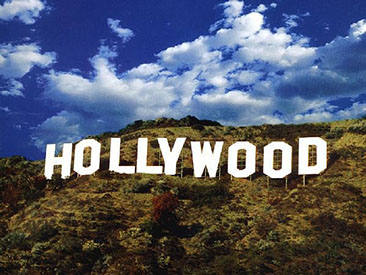 Los Angeles, City of Angels, and sixteenth largest economy in the world, welcomes you to explore everything our vibrant and diverse city has to offer.  Since we're talking about the natural world, make sure to head EAST and visit Griffith Park, the larger, more untamed, and rugged counterpoint to that other great urban park, New York City's Central Park. You will begin to appreciate how unique are our chaparral ecosystems and how vulnerable they are to climate change. Or, venture WEST to the Venice Beach and begin to appreciate the fragility of the tidal ecosystem and its vulnerability to urban soil degradation in the form of urban runoff.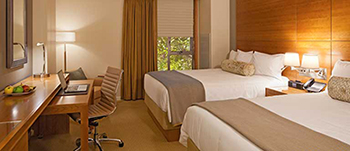 Urban Soil Summit 2.0 attendees have access to an exclusive block of rooms at the UCLA Meyer and Renee Luskin Conference Center in the heart of the UCLA campus.  King bed and two queen bed rooms will be available.  These luxurious accommodations include the conference center gym; a $10 upgrade gets you a pass to the world renowned John R. Wooden Recreation and  Sports Center where you are sure to spot some seriously fit and highly recognizable Los Angelenos. The pool is fabulous!
Conference Center hotel accommodation prices are all-inclusive.  Oh, except for parking…parking is expensive in Westwood.  We will be encouraging you to carpool, use ride share services, or avail yourself of the shiny, brand spanking new Los Angeles public transport system which will whisk you right to the UCLA campus hub, brief walking distance to the Conference Center.
Details about these accommodations will be available in May 2017.  When you register for your Summit tickets, be sure to select the box "YES" on the accommodations question. We will send you an email with all of the details as soon as they are available.