Hire a G3 Certified Professional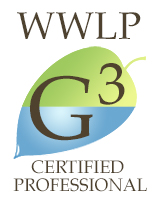 Please choose the region AND type of service.
Total found: 159 G3 Certified Pros
G3 Certified Watershed Wise Landscape Professionals have completed a sixteen hour course on irrigation and rainwater use efficiency, passed an examination, submitted a Site Evaluation designed to demonstrate the application of their WWLP training, and maintain annual CEUs in the Watershed Approach to landscaping.
These Certified Professionals have completed all of the requirements of certification and are in good standing. Neither the order of the listings, nor the listing itself implies any endorsement, recommendation or promotion of any particular professional, nor any guarantee of the workmanship or materials provided by the professional in the conduct of their business. It is your sole responsibility to investigate the professional's background and expertise.
All information presented in G3's online directory reflects data provided to G3 by it's members and Certified Professionals. It is the sole responsibility of the Certified Professional to maintain the information on their profile and to maintain their certification credentials. While G3 has confidence in the information presented on its website, G3 makes no guarantee as to its accuracy or completeness.