2017 Summit Sponsorship Program
The Urban Soil Summit 2.0 again unites a diverse group of leading thinkers, scientists, engineers, policy makers, architects, planners, designers, and concerned individuals in an energetic exchange about the science and actions necessary to create Soil Security, a fundamental building block of resilience. This event is planned to enlighten, inspire, amaze and motivate thousands of actions around building Living Soil in urban environments.
Your financial support and participation as a Sponsor allows us to tell the story of how urban Living Soil can connect us to our personal health and the health of our communities, sequester carbon, absorb and clean water, reduce fire and flooding, and turn green waste into green gold, while simultaneously creating a platform for rebuilding the urban workforce. In today's environment, it will take a "Turn Away From TERROR and a Return To TERROIR!" for true urban resiliency.
The Luskin Center at UCLA offers us a unique venue for meeting, with all food, drink, and state of the art facilities included. Sales of tickets cover our venue fees, but we need your help bringing these amazing speakers and facilitators from all over the world to Los Angeles.
The collective talent, knowledge, and creativity embodied in our internationally renowned speakers poses a truly special moment for us to come together and begin to change the course of the health of the planet and our relationship to it for future generations. Consider the ideas we've outlined below. We would be happy to customize a sponsorship opportunity that best suits your goals and budget. If you have questions, please email Allison Olson at AllisonO@GreenGardensGroup.com .
Event Sponsorships are the essential contributions necessary to keep ticket prices low and ensure the quality of our venues, food, and speakers. Please support the Summit at one of the following six levels of participation outlined on the chart below.
Please note that the CAREX Sponsorship is only available to .edu organizations.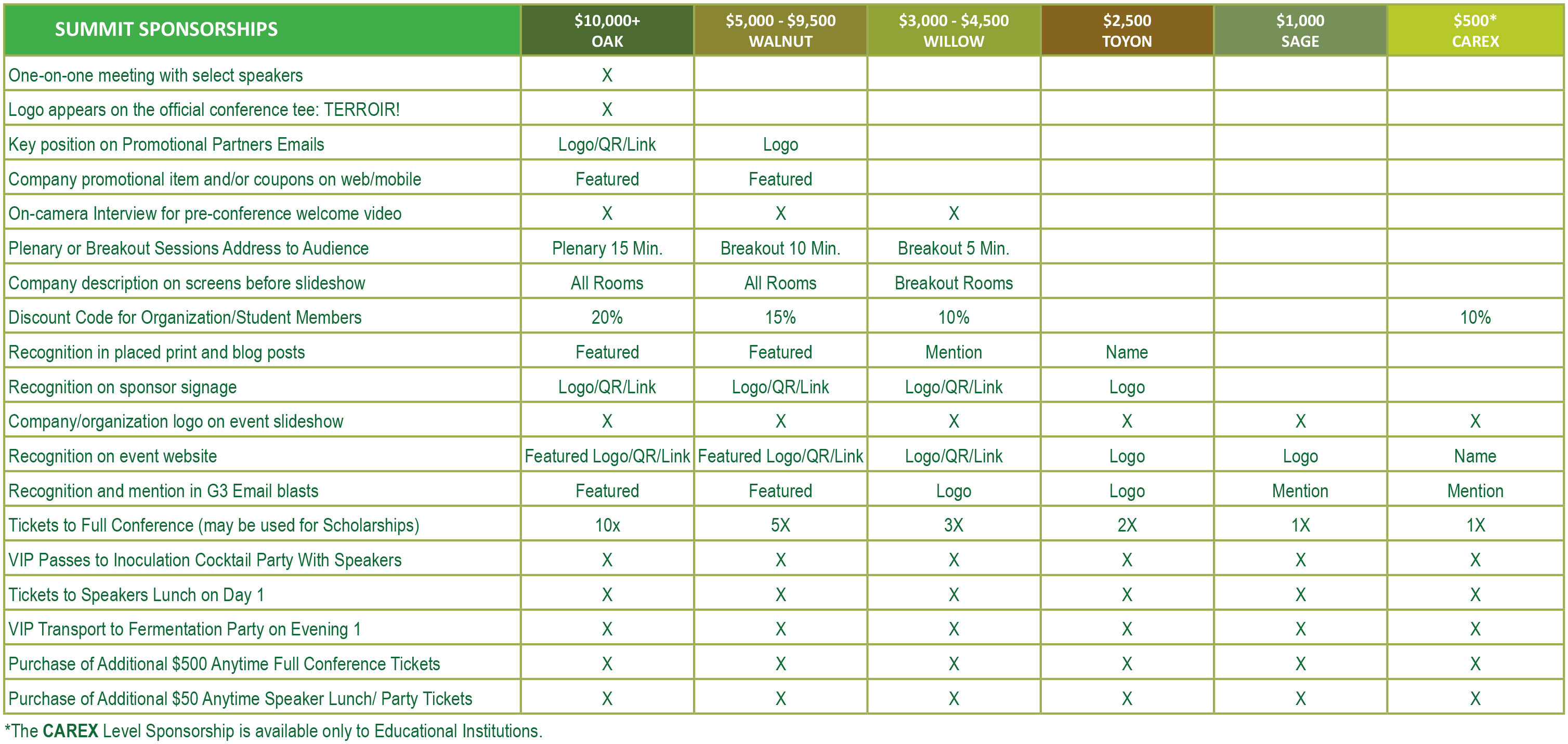 Please consider purchasing extra event tickets at the Sponsor Anytime Price of $500.00 and donating them to our Scholarship Fund for students and leaders within disadvantaged communities. $500.00 Anytime Tickets may only be purchased by Sponsors in lots of 5 and paid for in advance by check. Each person attending the conference must register for the Event. Anytime Tickets will not be available for purchase after midnight May 31, 2017.
Sponsors are responsible for distributing their discount coupon codes to their members. All discount coupon codes will be discontinued at midnight on May 31, 2017.