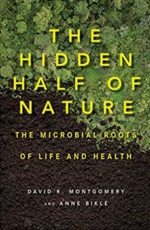 Anne Biklé is a biologist with wide-ranging interests. She has worked in the private, government, and non-profit sectors on projects involving land stewardship, threatened and endangered species, and urban livability. In these endeavors, nature frames how she examines places, landscapes, and people's relationship with their environments.
She finds the botanical world particularly enthralling. This has led to a number of things—building a garden, a bad case of plant lust, and most recently, writing a book with her husband, David Montgomery, who is also Urban Soil Summit presenter. Their team effort produced The Hidden Half of Nature: The Microbial Roots of Life and Health. Recent scientific discoveries reveal that our health and well-being depends on a unique community of bacteria, fungi, viruses and other microbes that we carry around inside of us and on us—our microbiome.
But our intimate microbial menagerie is in trouble. Too many agricultural, gardening, and medical practices chisel away at our tiny allies. As Anne and David found out, however, it is possible to restore and cultivate microbiomes. And it can happen rapidly.
At the conference Anne plans to share the wonder of microbiomes and their vital roles in the health and well-being of soil, gardens, and even our own bodies. She hopes that greater awareness will lead to better advocacy and stewardship for the little-loved members of the microbial world that make us and our gardens what we are.
Website: www.Dig2Grow.com || Twitter: @Dig2Grow || Facebook: Dig2Grow Books