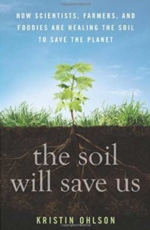 Author of The Soil Will Save Us
Kristin Ohlson is a writer with one foot still in Cleveland, where she lived her most recent 30 years, and the other planted in the wonderfully fecund Portland, Oregon. A freelance journalist, author, essayist and fiction writer, almost no topic escapes her curiosity. Ohlson's articles have spanned many subjects, from zebrafish bioengineered to glow in the presence of pollutants to abandoned coal mines that catch fire and burn for decades to feminist philanthropy to the biology of moral decision-making to watching Indian soap operas with a roomful of men in Kabul.
Over the last few decades, Ohlson has written for many publications including the New York Times, the Christian Science Monitor, Utne, Salon, Smithsonian, Discover, New Scientist, Gourmet, Eating Well, Experience Life, Entrepreneur, Preservation, American Archaeology, Ms, Oprah, More, Poets & Writers, Tin House, the Cleveland Plain Dealer and more.