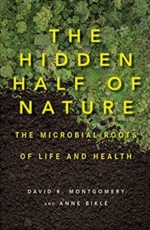 Anne Bikle is a biologist with wide-ranging interests that have led her into watershed restoration, environmental planning, and public health. An invited speaker at universities and national conferences on connections between public health and the built and natural environments, she has also worked extensively with community groups and non-profit organizations on environmental stewardship and urban livability projects. She spends her free time out in the garden with her hands on plants and dirt, giving into her self-described "bad case of plant lust."
Together with her writer husband, David R. Montgomery, she has created Dig2Grow, so-called because "that's what happens when you write, talk, and act on things that matter to the well-being of people and our one-and-only planet." The pair have created an environmental trilogy:
Dirt, about the plight of soil and what we've done to it since the dawn of agriculture.
The Hidden Half of Nature, a revealing exploration of how microbial life underpins the health of soil and, even our own bodies.
And, now they have Growing a Revolution, a way to transform farming practices so that agriculture can help cure what ails the land.