On February 24, 2015, G3's vision for the first urban soil summit in the U.S. became a reality. After months of planning, strategizing, agonizing, blogging, tweeting and emailing, the day finally arrived and we were underway.
That Monday morning we rolled in, excited and a bit nervous, cars loaded down with equipment, materials and of course food (what's a G3 event without food?). The Natural History Museum, which had so graciously donated the space, was beyond accommodating and provided such a perfect setting for the event.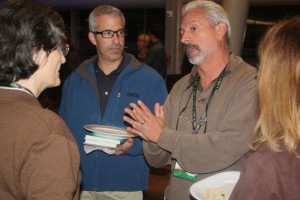 From around the world, speakers were arriving in planes, trains and automobiles for that night's kick off Inoculation party: an APLD sponsored book signing and cocktail party highlighting our two authors and panel moderators, Kristin Ohlson and Judith Schwartz. The Inoculation party set the tone for the event as participants met and mingled, enjoyed garden-themed cocktails, delicious hors-d'oeuvre and bouquets of native flowers from the museum, provided by G3's own Richard Hayden and Carol Bornstein.
Bright and early Tuesday morning, the formal symposium began. The two days were jam packed with dynamic speakers and great information. There were so many exciting and inspiring events we don't know where to start. Here's just a few of the many highlights:
Dr. Suzanne Simard shared her research on how trees communicate and that they are indeed sentient beings. You could feel the emotion in the room as our understanding shifted along with the reminder that we are all connected.
Allan Savory spoke on Holistic Land Management practices that are rooted in the idea of an ancient connection between plants, animals, land and the climate. Definitely an intriguing point of view that recommended bringing back 'mega fauna' as the one tool that could make a difference. As he said, "we've tried using fire, we've tried technology, we've tried resting the land – none of these have worked quite like having animals come through and use the land and replenish it." So what could cows look like in the front yard?
Ray Archuleta, a vibrant speaker who provided a real life demonstration of the effect of our current soil management practices on various soils' water absorption abilities and resulting run off. You could feel his passion as he entranced his audience with his stories and his proof. His faith in the power of the soil is currently being felt across the land as hundreds of farmers are seeing the tangible results of practicing what Ray preaches.
Finian Makepeace with Kiss the Ground, a wonderful Summit Fiscal Sponsor, shared through his artistry the potential tragedy that awaits us if we do not act now.
The list goes on with such diverse and highly respected speakers as Andy Lipkis, TreePeople, speaking on the role of soil in the urban forest. Dr. Elaine Ingham, known as the mother of the biological soil movement, spoke passionately and eloquently about the soil food web. And Brock Dolman brought down the house with his brilliant, humorous presentation about, "HEAD waters being needed for an EGO system RESTORYation."
And that's still not everyone…. So for those who want to hear all that you missed, or if you want to hear these wonderful speakers again, podcasts are coming soon.
So where do we begin to capture the significance of this event? For many of the attendees, it shifted the way they thought about landscaping, opening their eyes to new concepts and new paradigms. Up to this point so much of the research on soil had been done in agricultural settings. But for the first time, we were taking that research and asking, "How can we apply this to an urban setting?"
For some it was an opportunity to connect with colleagues, old and new, to develop new relationships and in some cases the synergy to move projects forward.
And for some still, it was a chance to listen to the speakers and remember, with their hearts, why they chose the work they did.
As we look back on this game changing event, we are so very grateful to all of those who supported this effort: to our sponsors that kept on signing up to the very last minute; volunteers who jumped in to do anything and everything we asked of them; the G3 staff that worked so hard and diligently to make this event all that it was. And to all the participants who came to listen, to learn, and because they believed that we could be the difference.
Though it's true you really had to be there to fully appreciate the magnitude of this event and the life-changing impact it had on so many of our participants, don't dismay….
G3 will be back with the Second Annual Urban Soil Summit. Hope to see you all there!
Quotes from our participants / speakers:
"It is hard to imagine a more important and inspiring conference!  The idea that I might have missed this ground-breaking (no pun intended) event is unthinkable.  My sincere thanks to G3, APLD, Stephanie Bartron, the Speakers for their articulate insight, knowledge and commitment, the Natural History Museum, Carol Bornstein . . . and the list goes on, for bringing this event into being.  Bravi!"

"Fantastic, mind-blowing experience. Worth every penny!"

"Even though I use these principles, there is always more to learn. It is good to be validated and have hard core facts to use when dealing with contractors and clients."

"You guys did a FABULOUS job! The venue was interesting; the lunches were delicious. The speakers were outstanding and the party at the Figueroa was magical. Congratulations!"