Date/Time
Date:
03/15/2017
Time:
9:00 AM - 5:00 PM
Location
CPS Distributers Headquarters
105 W. 122 Avenue
Westminster, Colorado 80234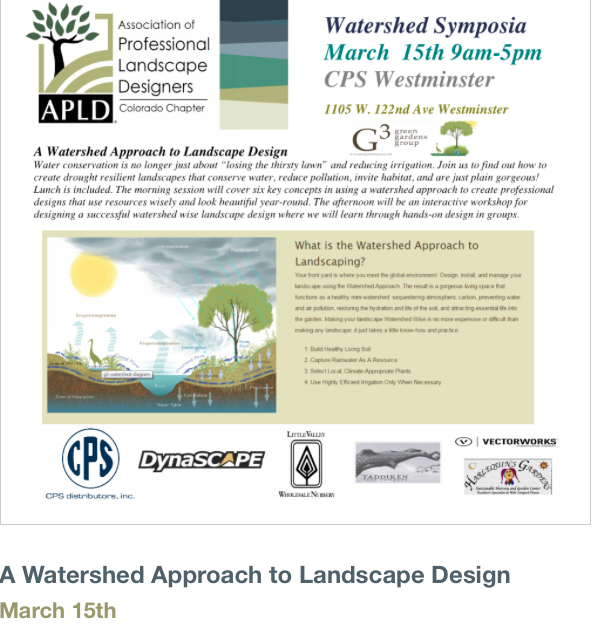 Join us in Westminster, CO for a unique day of landscape design using the Watershed Approach.  This class puts professional landscape designers and contractors next to each other to help everyone make the most out of their landscape. In the morning we will be getting the basics. After a delicious lunch, we work in teams in a hands-on design seminar.
This six-hour interactive workshop identifies the steps for successfully designing a water wise landscape – including;
▪ Understanding and contouring for rainwater
▪ Creating a list of climate appropriate plants
▪ Placing plant symbols on a plan using key design principals
For professional landscape designers and contractors, learn about the "new normal" in landscapes — the Watershed Approach helps your clients conserve water, improve water quality, build healthy living soil for the benefit of healthy plants, all without sacrificing the beauty we've come to appreciate in Colorado landscapes.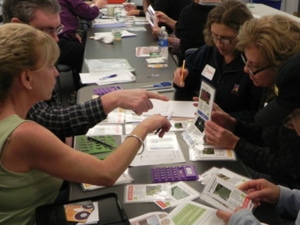 This class is hosted by the Association of Professional Landscape Designers (APLD) Colorado Chapter. Grab a flyer here and share it with your colleagues:  20170315_APLDCO_WA.jpg
Register at https://www.eventbrite.com/e/a-watershed-approach-to-landscape-design-tickets-31169851866
Having trouble navigating this event?  Email for help: Classes@WatershedWiseTraining.com  and be sure to note the date and place of the event so we may direct your inquiry to the best person to help.